Limestone tiles proving popular for a stone kitchen floor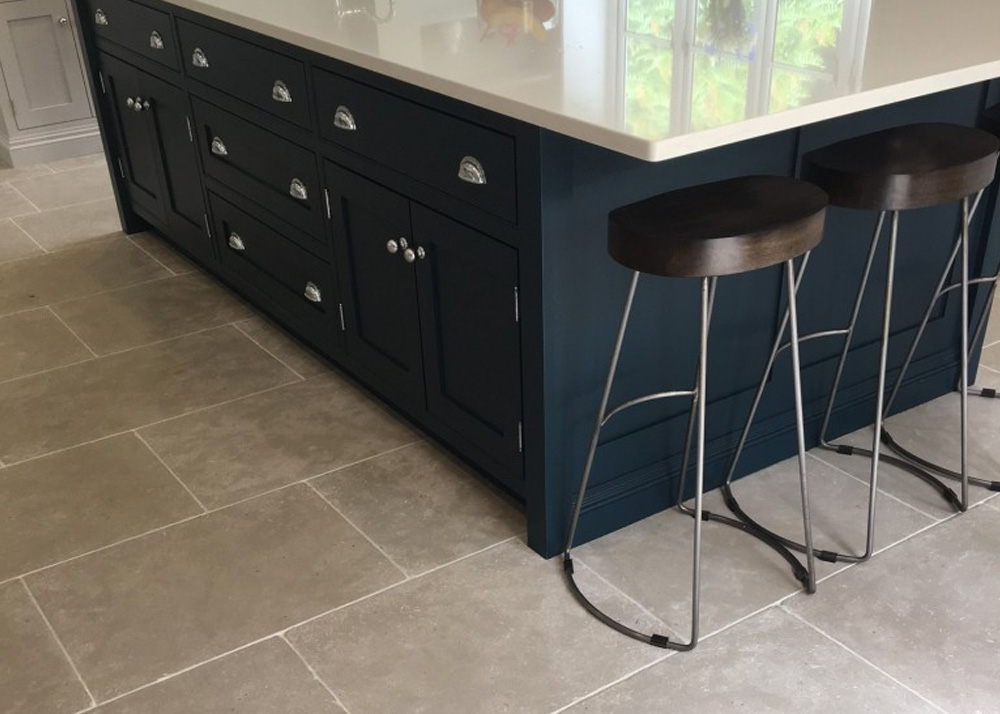 Limestone tiles are proving a popular choice for a stone kitchen floor with the rustic charm of this grey limestone demonstrating exactly why.
Chalon Grey limestone was used throughout this large kitchen/diner and contrasts lovingly against the dark blue and off-white kitchen cabinets to create a warm, contemporary room perfect for socialising as well as busy family life.
An equally stunning stone kitchen floor was created in this London home using Paris Casa Limestone. This aged floor is created using traditional hand-finishing techniques to replicate the look of an old stone floor that has been laid for centuries. Paris Casa features beautiful variation with warm beiges and cooler tones throughout. 
Another recently-finished project saw Antiqued Grey Barr limestone tiles used on the floor of this traditional kitchen featuring pale blue and beige units. The hand-aged surface and edges give this hard limestone a soft, cushioned look which works well in a traditional setting absent of hard lines. A truly beautiful stone kitchen floor. 
The white Corian units below were complemented beautifully with aged blue limestone tiles which feature subtle ageing to the edge to create a soft, rustic tile. This limestone kitchen floor was a confident choice from the homeowners who were not afraid to use a dark tile.
Natural stone can be a perfect choice when trying to decide on which kitchen tiles to choose – each is unique, with its own character and history to tell.
All of these limestones can be used in high-traffic areas and with the right sealer/treatment will easily stand the test of time. While some may think natural stone is less durable than porcelain, we would say they are wrong! A stone kitchen floor will age and change slightly after being laid for some time, continuing to develop its own character, but it is also a strong, durable material capable of taking all that life throws at it. 
If you are considering using natural stone in your kitchen project (or anywhere else for that matter!) do get in touch by calling 0333 444 8899 or fill out our contact form here.
Sign up for our newsletter today!
Previous Article
Next Article