Our tips for selecting stone kitchen flooring for your project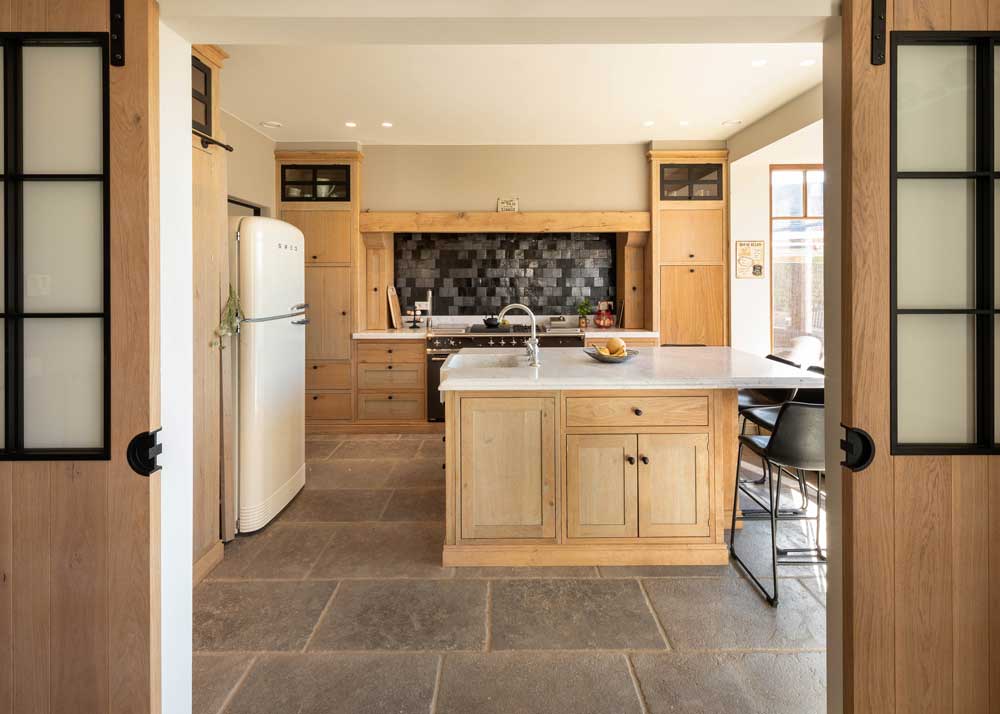 Stone kitchen flooring is a popular choice in many homes. Take a look at some of our tips on what to consider when selecting yours.
Why should you choose stone kitchen flooring?
Natural stone belongs to a limited selection of materials that are considered as a product with the best possible life cycle. It is a product that is so durable that it not only practically lasts forever, but also can be used for new applications and recycled again and again. Natural stone is thus a very sustainable product.
How durable is the material? 
The kitchen is traditionally a very busy room in any household while also being the space where numerous activities could be taking place, alongside cooking and eating. Therefore, the flooring chosen needs to be able to withstand all that life can throw at it.  There are many options available for stone kitchen flooring that are extremely dense and easily maintained. There are also some stones that should be avoided due to them being too porous or soft, which would make them susceptible to damage.
What look do you hope to achieve?
Whether in a country cottage, a traditional home extension or modern new-build, there are so many choices when it comes to stone kitchen flooring. Aged flagstones will complement the rustic charm of a rural cottage while tumbled limestone tiles can be perfect for a traditional yet contemporary home, and honed marble tiles will create sleek lines in a modern abode. The complete look will be influenced by the tiles' finish, colour, variation and shell/fossil content as well as how the tiles are treated once they are laid – the appearance of natural stone can vary widely depending on whether a colour enhancer or wax is used on the surface. Find out more about stone tile finishes here.
What colour would work best?
Colour choice is an obvious consideration, however, there is a little more to it than what simply looks the best. Pale tiles with little colour variation can be a popular choice thanks to the fact they easily complement any design scheme. However, if your kitchen is a busy space where perhaps muddy shoes (or paws) can sometimes be an issue then a slightly darker tile or flagstone with more colour variation, fossils or shelling may well be more forgiving. The colour of the grout you use should also be carefully considered. While also having an impact on how the finished floor looks, the colour of the grout can also affect how it stands the test of time – a pale choice is more likely to look mucky after time than a darker shade.
How big is the space?
You should consider the size of the space when deciding the size and format of the tiles used on the floor. A large, expansive kitchen-diner can easily handle large flagstones or tiles, while a more cosy, intimate kitchen would be better suited to smaller stones. The shape of the space could also influence what format of tiles you select and how they are laid. For, example, a long, narrow room may be best suited to rows of rectangular tiles installed horizontally across the space to create the illusion of more width. See more about tile sizes and formats here.
Will you continue the floor into another room?
With many homeowners wanting to create the feeling of space and open-plan living still a dominating design choice, it is also prudent to consider whether you want the same flooring to continue into other spaces in your home. This could be into a cloakroom, boot room or utility. Or, you may opt for the same stone floor throughout the living areas and hallway too.
What maintenance and cleaning will the floor require?
Natural stone floor and wall tiles will stand the test of time provided they are treated and maintained in the appropriate way. Some stones are so dense they require little sealing or maintenance. However, most will need to be sealed to ensure they are resistant to water and staining. This also goes for the grout joints.
If a corrosive substance such as red wine is dropped on the tiles, it should be cleaned up quickly. However, if the tiles have been sealed, then a stain can be easily avoided. Equally, for stone tiles that have colour variation and fossils, small stains can easily be hidden and become part of the floor. 
For general, everyday cleaning, chemicals such as bleach should be avoided. Simple warm, soapy water should be enough to keep the floor looking tip-top. A steam cleaner could also be used. Occasional deeper cleaning and resealing may be required to maintain the tiles' look over time. A wide range of natural stone sealing and cleaning products are available to make this process easy. See more about the care and maintenance of stone tiles in our FAQs. 
Featured products – click on the titles to view each one:
Sign up for our newsletter today!
Previous Article
Next Article